Total Compliance At The Click Of A Button

Stay compliant with security and regulatory requirements using our comprehensive compliance packages that can be customised according to your enterprise's industry and geography.
C3M's compliance engine supports industry best compliance standards and regulations including FedRamp, GDPR, HITRUST, PCI, NIST, CIS, POPIA and other custom frameworks to help enterprises stay compliant with the ever-evolving security standards and regulations.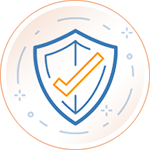 With the shared responsibility model, lack of visibility, ephemeral nature of resources, and multi-cloud strategy, compliance in the cloud is challenging for enterprises particularly for those in regulated industries and with contractual requirements. Cloud infrastructure should be continuously monitored for the risks of non-compliance with security requirements, standards, and regulations. This is one of the key problems that C3M Cloud Control solves.
Stay Audit Ready and Be Cloud Compliant With C3M Cloud Control
The C3M Way Of Cloud Compliance

Offers a detailed mapping for cloud software configurations to various industry regulation controls and offers industry and geography specific compliance reports

Get contextual compliance reports delivered to your email on a predetermined schedule – weekly, monthly, quarterly, or download it on an ad-hoc basis.

Assures constant and continuous compliance with regulations, standards, and industry best security practices.

The C3M Cloud Control platform is highly extensible and can support custom compliance packages with respect to industry, geography etc.
Automatic and Continuous Monitoring of Cloud Infrastructure for Compliance with Industry and Geography specific security standards and regulations
FedRamp facilitates adoption of cloud services by federal agencies and standardised the approach to security assessment, authorisation, and continuous monitoring for cloud products and services.
The HITRUST CSF program is widely adopted in the healthcare industry and brings together various security regulations and standards into a single framework by giving a threat focused approach to data protection and compliance.
GDPR mandates businesses to protect personal information of EU citizens and give individuals control over their personal data. The regulation also harmonises data privacy laws across the EU and imposes huge fines on business that breach the regulations.
The Cloud Security Alliance has launched the Cloud Control Matrix v3.0.1, a framework of cloud specific controls mapped to leading standards, regulations and best practices.
ISO 27001 is the international standard that defines requirements for an Information Security Management System. Compliance with ISO 27001 evidences the enterprise's adherence to industry best security practices.
PCI-DSS sets the operational and technical requirements for any entity that stores, processes or transmits cardholder data. These standards also apply to software developers and manufacturers of applications and devices used in such transactions.
HIPAA is a legislation mandating health care providers and their business associates to develop and follow procedures that ensure the confidentiality and security of protected health information at all times.
NIST provides a cyber security framework to enable greater development and application of practical, innovative security technologies and methodologies that enhance the US's ability to address current and future computer and information security challenges.
The Gramm-Leach-Bliley Act mandates that companies that offer consumer's financial products or services like loans, financial or investment advice, or insurance – should explain their information-sharing practices to their customers and safeguard sensitive data.
The Center for Internet Security ("CIS") has defined a set of controls and benchmarks for cloud service providers to enable enterprises to safeguard systems against the ever-evolving threats.
The Protection of Personal Information Act (or POPIA) is a South African legislation that sets conditions for the lawful processing of personal information and applies to any person or organisation storing any type of records relating to the personal information of any person. POPIA aims to keep people's personal information secure, and protect them against identity theft, fraud, and similar breaches of their private information.
Auditors get historical data and remediation logs to monitor improvement in cloud compliance.