Automated Cloud Security Assessment

Identify Cloud Misconfigurations And Security Threats in One Scan
Free Cloud Security Assessment *
Is security a challenge in your cloud journey?
Organizations adopting the cloud are faced with a set of challenges that impact their cloud journey

"For an enterprise that does not want to invest in a term license but wants to monitor their security and compliance regularly, the C3M Cloud Security Assessment As A Service works perfectly".
What is the C3M approach to Cloud Security Assessment?
Gain deep visibility into your cloud infrastructure and the cloud security posture by leveraging the C3M's Automated Cloud Security Assessment platform.
An enterprise, irrespective of its size, geography or industry, should be aware of the cloud security posture from time to time and be able to implement sufficient guardrails to keep them protected in the cloud.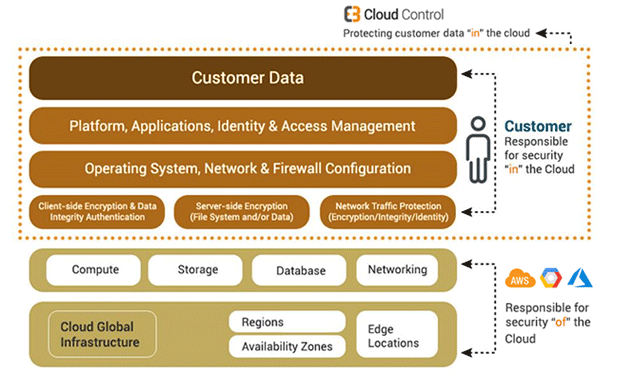 Shared Responsibility of Security
Cloud service providers like Amazon Web Services (AWS), Microsoft Azure, Google Cloud Platform (GCP) etc., have a shared responsibility model for security.

Security "of" the cloud – Responsibility of the cloud provider
Security "in" the cloud – Responsibility of the customer
In a shared responsibility model, the customer is responsible for:
The C3M Cloud Security Assessment can help startups as well as small, medium and large enterprises assess their cloud security and compliance posture in a matter of minutes. The ROI is immediate.

Unlike traditional security assessments or penetration tests, where hours or days are spent in understanding an enterprise's security documentation and processes, the Cloud Control platform can assess and give the security posture in minutes.
Complete cloud visibility and Inventory
Align your security posture with industry best practices and compliance standards
Identify gaps in your security strategy
Quick and easy assessment of cloud security posture
Avoid procurement hassles and term licenses

C3M has its partners across the globe and deliver tailored Cloud Security Assessment to allow you to fully understand your security and compliance posture and get best practice advice to remain secured in the cloud.
Please fill in the form below and one of our associates will reach out to help you start the assessment